ARCHITECTURAL CEILING SOLUTIONS
Individual Assembly Channel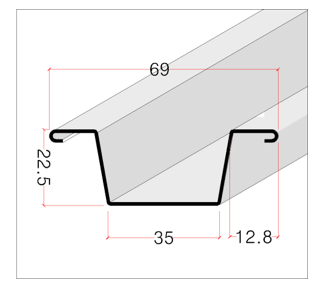 Material

G.l Steel

Galvanized zinc coated > 120 Z (180 to 275 Z
on request)

3000mm Std. (Custom length available on request

0.4 / 0.45 / 0.5 / 0.55 / 0.7 / 0.9 mm

0.4/0.45/0.5/0.55 mm Generally Available
Material

G.l Steel

Galvanized zinc coated > 120 Z (180 to 275 Z
on request)

3000mm Std. (Custom length available on request

0.4 / 0.45 / 0.5 / 0.55 / 0.7 / 0.9 mm

0.4/0.45/0.5/0.55 mm Generally Available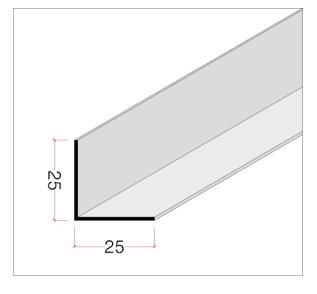 Material

G.l Steel

Galvanized zinc coated > 120 Z (180 to 275 Z
on request)

3000mm Std. (Custom length available on request

0.4 / 0.45 / 0.5 / 0.55 / 0.7 / 0.9 mm

0.4/0.45/0.5/0.55 mm Generally Available
Individual Assembly Accessories
Pan Head Self Drilling Screw
½" screw for channel and 1" screw for board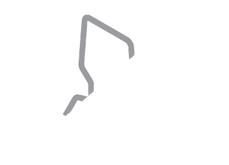 wire clip for coupling primmer C channel C12 x 38 use with
furring channel (FR)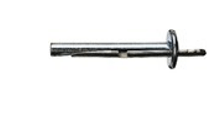 | | |
| --- | --- |
| | DBZ hammer anchor 6 x 40 mm. |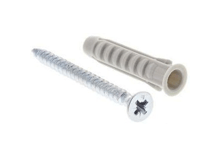 | | |
| --- | --- |
| | 6 mm fissure and screws with washer. |
| | |
| --- | --- |
| | (Powder (cartridge) actuated gun nail XCC clip. [Take site permission]) |
Fixing Stages of Individual Assembly
1- Soffit Hanging – GI C channel 12x38x12x0.50 mm is used as vertical hanger. (It is the same primary channel section mentioned below). Maximum spacing is 1200 mm. It is anchored to the concrete slab using following options:
        a. DBZ hammer anchor 6 x 40 mm
        b. 6 mm fissure and screws with washer.
        c. (Powder (cartridge) actuated gun nail XCC clip. [Take site permission])
        d. If the ceiling is more than 3000 mm high an overlap connection of 35 cm of the hanging profile to be done with three screws to connect them.
       e. Note:
             i. Instead of C channel, GI L angle 25x25x0.5mm may be used for hanging.
            ii. If specifications demand, GI 6 mm threaded rods may be used as hangers (though not suggested). In such a case necessary connecting anchors and C clamps will be used instead of screws.
           iii. If hanging from trusses main channel is screwed to any fixed section.
2- Connecting the Hanger – C channel as hanger (vertical) is screwed to horizontal primary C channel
12x38x12x0.50 mm using self – drilling ½" pan head screws.
3- Horizontal Assembly – Horizontal Primary C channel 12x38x12x0.50 mm (Main Channel) is placed cross direction with Furring channels below and screwed using self – drilling ½" pan head screws. Alternatively it can also be connected with furring channels using preformed wire coupling clips. Main channel are placed at a maximum spacing distance of 1200 mm.
4- Horizontal GI Furring channel 22.5X69X35X0.45mm is spaced at 600 mm c/c, cross direction bellow main channel.
5- Plaster board (Gypsum board) of size 1200X2400X12.5 mm. Is attached to Furring channels with screws at a spacing of 25-30 mm using 1" bugle-head gypsum-board screws.
6- GI Wall L angle 25x25x0.45mm is used as concealed wall trim. (If a shadow groove is required use the TechnoPlus
wall trim that creates a straight line by default).
7- For Higher additional Load high thickness of boards or double or heavier board applications for other than normal load use framing assembly combination as follows or as suggested case to case:
     • Reduce spacing of horizontal Primary C channels.
     • Increase thickness of horizontal Primary C channels.
     • Increase thickness of horizontal Furring channels. 
Standard Assembly Quantity For 100 m2 (approximate)
Furring channel           67 Nos.
Primary C Channel     37 Nos.
GI Wall L angle            13 Nos.
Modern Trim Options-Wall Shadow
Hassle Free Perfect Straight Edge
Wall Shadow Gap 10,15 And 30 mm ( TechnoPlus)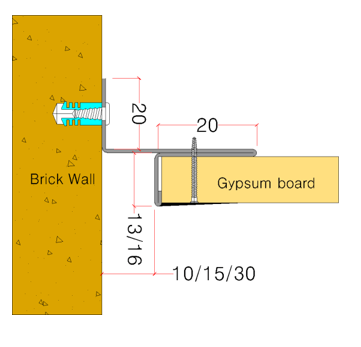 | Material | G.I steel or PPGI Steel. |
| --- | --- |
| | Galvanized zinc coated > 120 Z |
| | White RAL 9016(other color on request) |
| | 10x13 mm & 15x13 mm for 12 | 12.5mm Board(x 3000 mm std. Length) |
| | |
| | |
| | |
| | |
Wall Shadow Gap 20, 30 And 50 mm (Technoplus)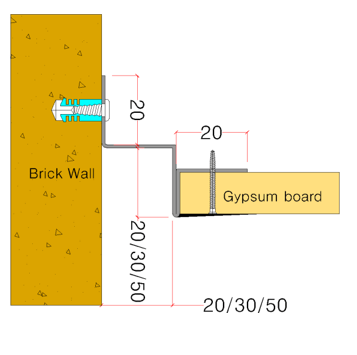 | Material | G.I steel or PPGI Steel. |
| --- | --- |
| | Galvanized zinc coated > 120 Z |
| | White RAL 9016(other color on request) |
| | 20 x 20 x 13 mm for 12 | 12.5mm Board (x 3000 mm std. Length) |
| | |
| | |
| | |
| | |
| | available on request.(maximum length 3 meter) |
| | available on request.(max length 3m) |
Classical shadow Trims Options
Z Profile Perforated Wall Shadow Trim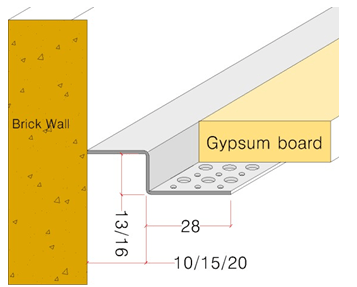 | Material | G.I steel or PPGI Steel. |
| --- | --- |
| | Galvanized zinc coated > 120 Z |
| | White RAL 9016 (other color on request) |
| | Customized (generally 15 x 13 mm) |
| | |
| | |
| | |
W Profile Perforated Wall Shadow Trim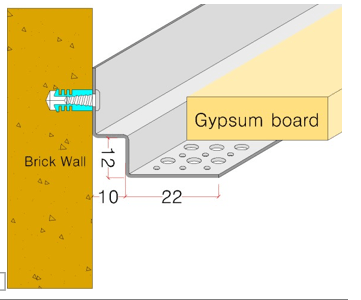 | Material | G.I steel or PPGI Steel. |
| --- | --- |
| | Galvanized zinc coated > 120  |
| | White RAL 9016 (other color on request) |
| | |
| | |
| | |
| | |
W Profile Wall Shadow Trim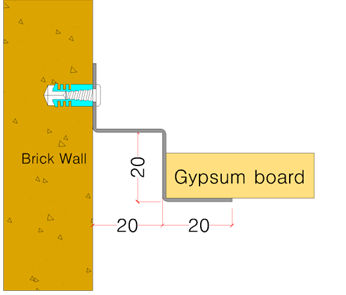 | Material | G.I steel or PPGI Steel. |
| --- | --- |
| | Galvanized zinc coated > 120 Z |
| | White RAL 9016 (other color on request) |
| | 20 x 20 x 20 x 20 mm / 20x15x15x20mm |
| | |
| | |
| | |
Decorative Groove Trim option
Can Add LED Light Strip In The Groove / Black Color Groove
20mm Decorative Groove Pattern
(1 set 1 piece )
| Material | G.I steel or PPGI Steel. |
| --- | --- |
| | Galvanized zinc coated > 120 Z |
| | White 9016 / black 9011 (other color on request) |
| | Fixed 20 mm (x 3000 mm length) Board Thickness: 12.5 | 12 mm |
| | |
| | |
| | |
Adjustable Decorative Groove Pattern
(1 set 2 piece )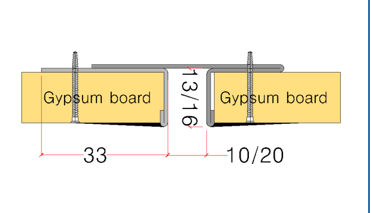 | Material | G.I steel or PPGI Steel. |
| --- | --- |
| | Galvanized zinc coated > 120 Z |
| | White 9016 / black 9011 (other color on request) |
| | adjustable 10-20 mm (x 3000 mm length) Board Thickness: 12.5 | 12 mm |
| | |
| | |
| | |
Deep Decorative Groove Pattern
(1 set 2 piece )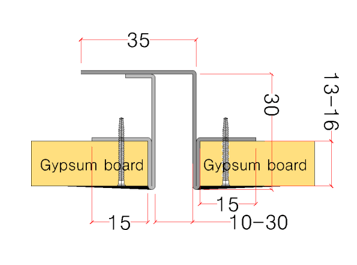 | Material | G.I steel or PPGI Steel. |
| --- | --- |
| | Galvanized zinc coated > 120 Z |
| | White 9016 / black 9011 (other color on request) |
| | adjustable 10 -30 mm wide x 30 mm depth Length 3000 mm(Board Thickness: 12.5 | 15 | Custom) |
| | |
| | |
| | |